Our crystal products are designed for the goddess!
Hand-made with love + light by our tiny tribe, who believe in the importance of holistic health + self care.
Know that by purchasing this product you are supporting a dream, inspired by a vision to bring these spiritual tools to you.
A small, family business, started in a costal town on the Mornington Peninsula, Australia, born from the essence of wanting to give back.
These bespoke gemstone products are 100% authentic made in earth and responsibly sourced
These baby's intentions is to prompt you to make time to invite a daily ritual into your world. To centre, to cleans + bring a sense of mindfulness into your space.
Use these ancient tools as a vessel to help you re - connect, in meditation or as a simple reminder to do more of what sets your soul on fire!
The busier our lives are becoming, the longer we are spending in-doors and on devices. We are essentially losing touch with nature and true connection to source.
The need to reconnect and to heal is becoming more and more important. Crystals are an accessible tool that can help do this... They literally are pulled from the earth and have thousands, sometimes millions of years of knowledge and wisdom for us to tap into and learn from.
We are our brand and we truly live what we preach. If we can offer spiritual tools to people just like us to help them to heal, so they can continue to grow, evolve and become better versions of themselves then hey... What more could we ask for in a life's purpose?

The dream team - Wicks and stones + Crystal Lab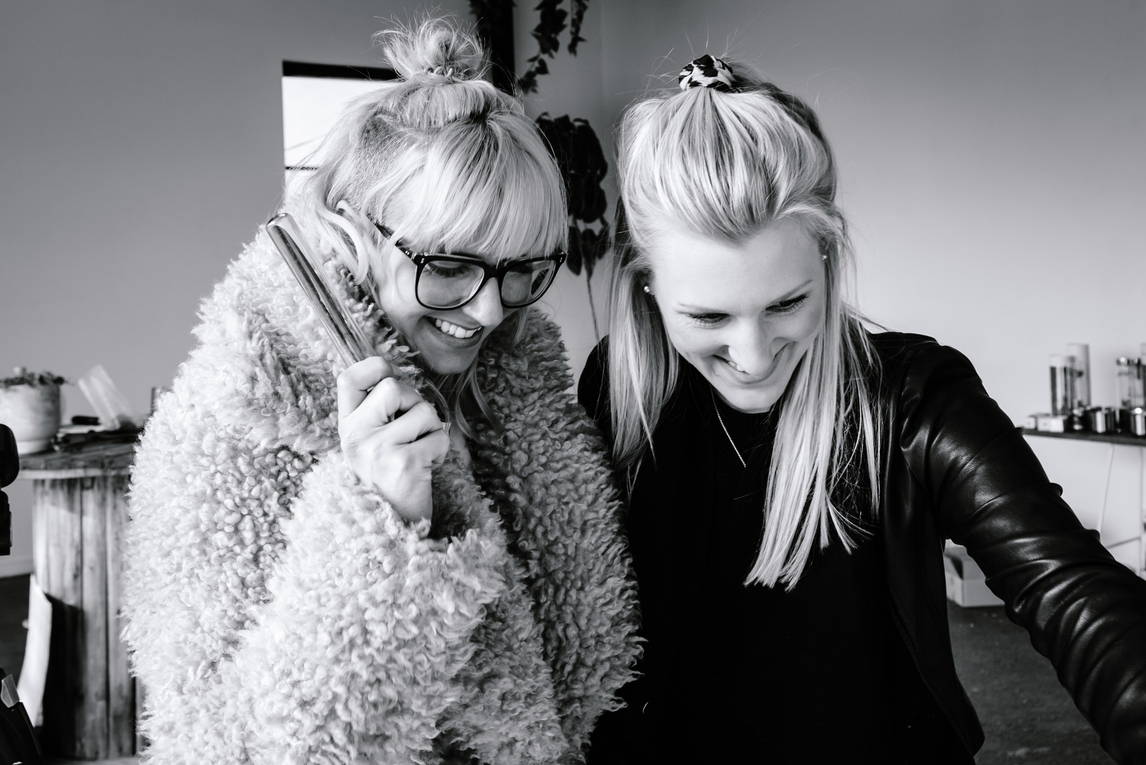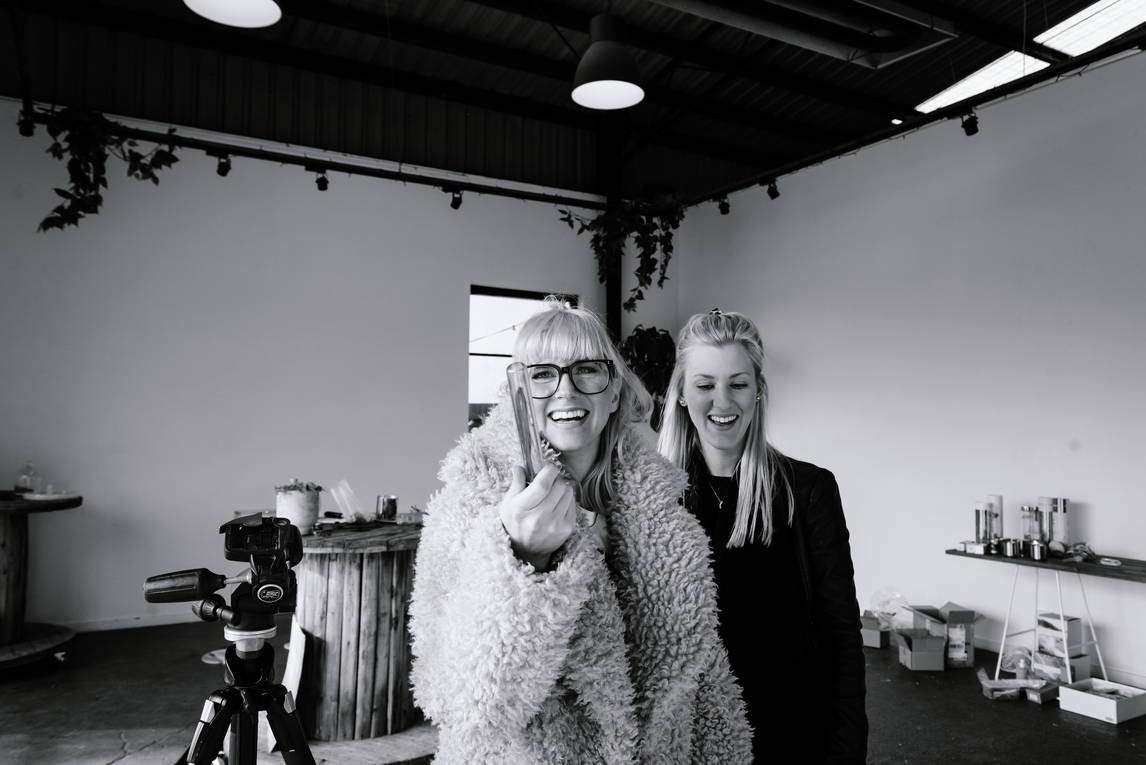 It always has been a project rooted in my passions for crystal healing, so I left my corporate city job behind and uprooted the tribe to the gorgeous sea-side community of the Mornington Peninsula in Australia, for a life that better suited my passions.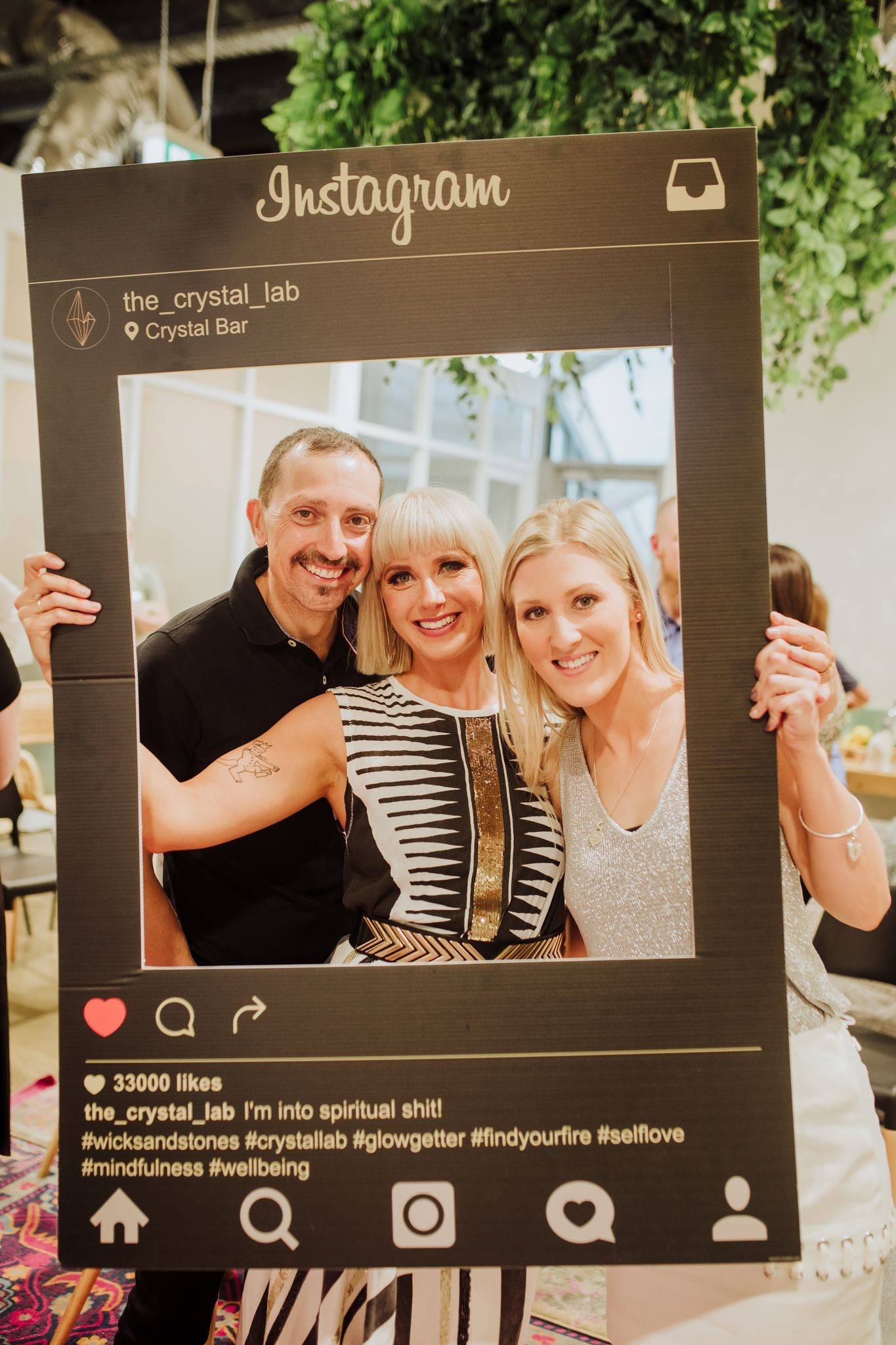 On a quest to reconnect with my true self, I became a full time yoga teacher. Through my yogic path, together with using crystals with candles as my tool to take me into deeper levels of meditation, I decided to change my stars and become a crystal hunting, candle making, mumma-lady boss, who devoted her life to all things wellness!
I soon realised it wasn't about re-inventing the wheel, but making better versions of the products that I wanted to use and own. My business quickly evolved into an extension of who I had become and it was with this mindset of creation and attention to detail that allowed me to find success in unconventional ways to pioneer my path, as Wicks and Stones grew into a full brand, which soon seen the expansion, into Crystal Lab.
Kym Eliopoulos - Owner + Founder
INTENTION CONNECTION REFLECTION
We want to encourage 'wellness rituals' through crystal healing that will support her through every-day!
Establish an INTENTION in everything she does. CONNECTION to nature, those around her and to source (her inner guru) REFLECT on everything she harnesses through gratitude.
CRYSTAL LOVING, YOGA DOING, HIGH VIBE'N STAR GAZING, SPIRITUAL
CANDLE ADDICTS
We want you to re-invest in BALANCE!
By using your crystals in daily rituals, you will learn to re-connect with your inner self, practice self-love + heal.

SHE'S GOT THAT SAGE BURNING, WOMB HEALING, MEDICINE WOMAN, ENERGY TRIBE VIBE GO'N ON!
Our vision is to make crystals mainstream + accessible to anyone + everyone who is interested in healing the body, mind + soul through holistic health. Our high quality candle's are hand poured by our tiny tribe in the gorgeous Mornington Peninsula, Victoria- Australia. Our bespoke crystal products are responsibly sourced from all around the world.
We have a strict brand policy that any components that make up our products that you breathe in (such as candles) or place on your skin (such as soaps, oils and serums) are hand-made in Australia.
We ensure that all involved, in every single process in the making of Crystal Lab + Wicks and Stones products, have met our own ethical standards, as we only source our supplies from socially, responsible businesses with ethical manufacturing practices.
We do this by personally visiting each and every one of them (because we're ole' school like that!) We believe by going this extra mile, it allows us to put our hand on our heart and be fully aware of who we are working with, so we can be transparent with you!
NOTE: If you are a customer of the EU. We also hand pour and distribute locally, from a small village in Derbyshire, England. Please click here to be directed to wicksandstones.co.uk to discover more on our locally made products.
- Wicks and Stones + Crystal Lab
VISITING OUR PARTNERS AROUND THE GLOBE... SOMEBODY'S GOTTA DO IT!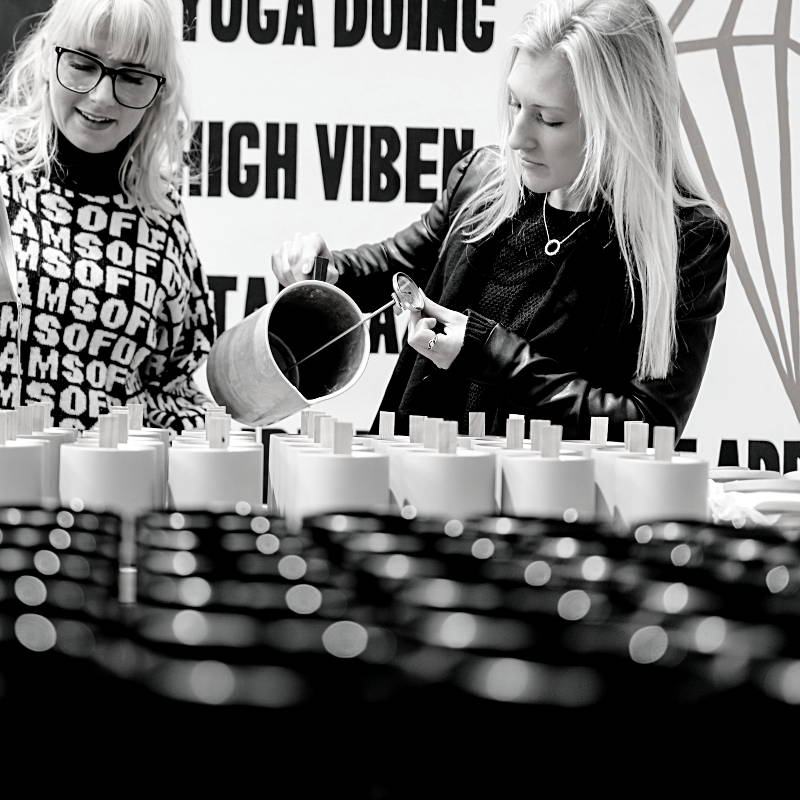 ALYSHA + KYM AT CANDLE CASTLE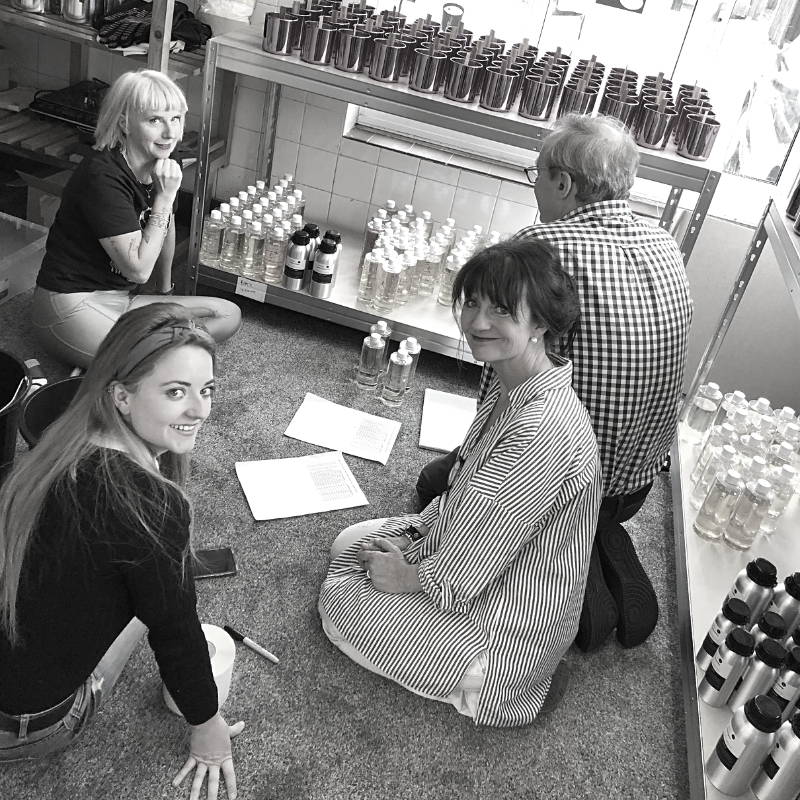 PART OF OUR ROCK-STAR TRIBE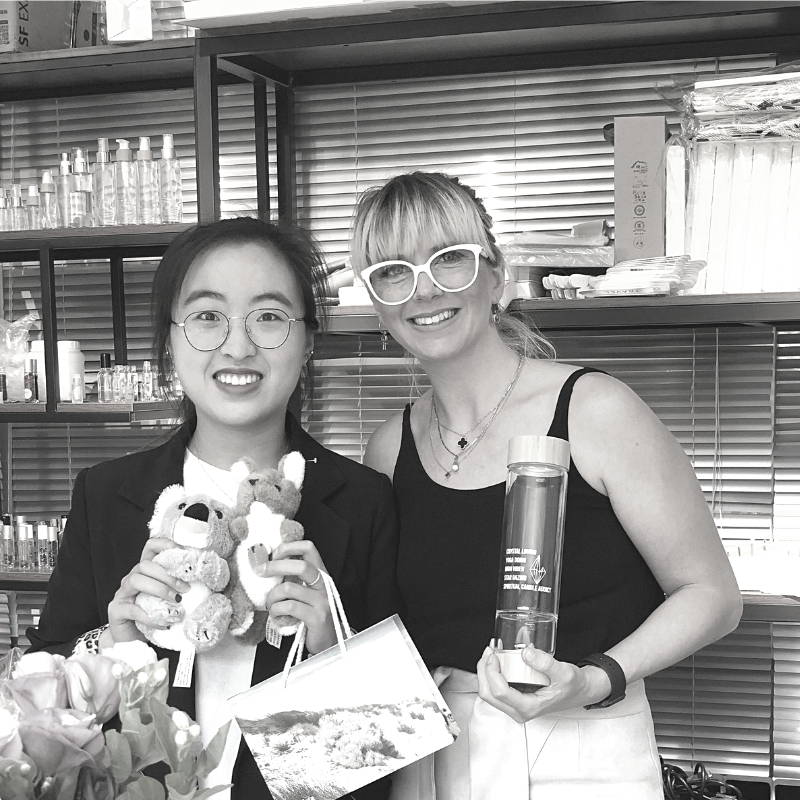 PICTURED WITH OUR SUPERSTAR 'WINTER' - HANGZHOU, CHINA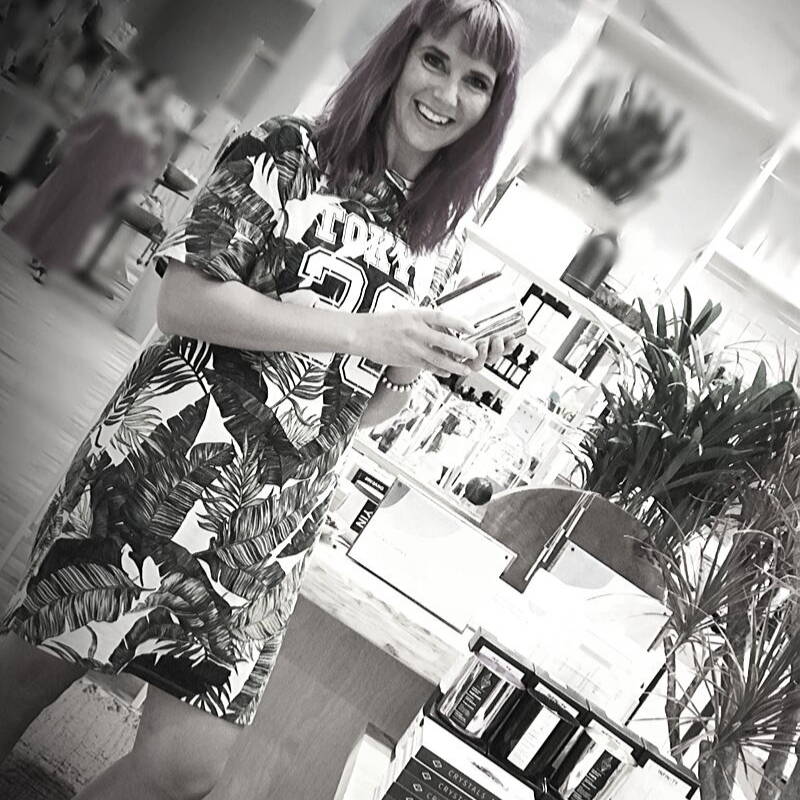 KYM AT THE LAUNCH OF WICKS AND STONES ANTHROPOLOGIE - USA